Sat Nam Fest caught up with Anne Novak to talk about her upcoming projects, what inspires how she teaches and much more!
We know you have some incredible yoga retreats coming up to support the Nambale Magnet School in Kenya. Can you tell us how you became connected with that organization?
Anne Novak: As it happens, miraculously enough, it was through teaching Kundalini Yoga that I became involved with the vulnerable children of Kenya and the creation of the school. About 20 years ago, a lovely woman named Martine Noletti, started attending my classes regularly after going through a very difficult time of transition in her life.
Martine Noletti wanted to help herself heal and engage with life with a renewed sense of joy and purpose. As she grew stronger through her practice, she felt a desire to reach out and serve others, inspired by the yogic concept of seva. Through a mutual friend, she met Evalyn Wakhusama, a native of Nambale, Kenya, who was studying for her Masters Degree on scholarship here in CT at Yale University Divinity School. The two women began brainstorming about how to help the vulnerable children of Nambale, many of whom have been orphaned due to the AIDS pandemic in this extremely impoverished western province of Kenya. And thus was born the idea for the Nambale Magnet School – a top notch, environmentally sound, self-sustaining residential school integrating  the vulnerable children along with students from families who could afford tuition.
With this dream in hand, Martine came to class one day asking if she could spread the word to our Kundalini community. I was deeply moved by her passion and the integrity of her vision and soon found myself on the board of the Cornerstone Project, founded here in CT to help Evalyn achieve her mission. I am very pleased to say that the school is now celebrating its 10 year anniversary and educates children from kindergarten through eighth grade. We have plans in the works for a high school and also a business retreat center. The school has become a beacon of light, not only for the children being empowered through education, but for the whole community through the creation of jobs and now, also adult education.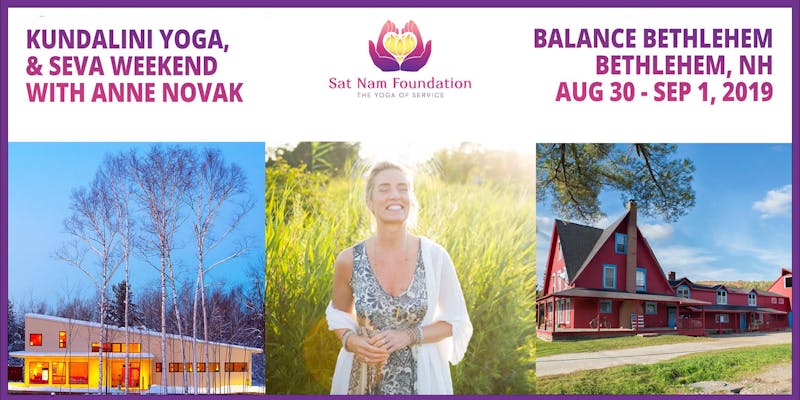 You have done an incredible amount of work developing a set of teachings for people to use Kundalini Yoga for chronic pain. How did you decide to focus on that topic? Can you share a powerful success story of one of your students?
Anne Novak: My interest in pain, and the body of work I've developed around it, stems from my own personal experience with chronic pain which began in my teens after an athletic injury. My initial focus was to understand why I was in pain and how to get myself out of it! That began a lifelong journey of exploring the complexities of the human experience of pain. As I learned and healed, I began sharing my experience with others. I've studied physical therapy, hypnotherapy and other mind-body approaches to healing, Hatha and Kundalini Yoga, various bodywork modalities, current neuroscience on pain research, energy medicine and continue to discover more everyday as I work together with people such as myself seeking to heal.
Recently, a 91 year old woman came for a private consultation with me. She walked into my studio leaning heavily on two canes, wincing with each step. She kept shaking her head and saying that she had 'no options' at her age. As we began to discuss the root source of her pain, she made the connections between her physical, mental and emotional experiences. Then we did a gentle Kundalini Yoga and Meditation practice. With the insights she gained from our conversation combined with the inner awareness she gained during the yoga and meditation practice she was empowered to relate to her body in a whole new way and recognize that pain is a call to heal and transform every aspect of our lives. She realized that even at 91, she had, in fact, numerous options, resources, talents and capabilities at her disposal. She left with no assistance from her canes, excited to fulfill her dream of writing a book (or several!) and committed to ending an abusive relationship. It was one of the most inspiring transformations I've ever witnessed.
Can you give us a sneak peek at what you will be sharing at Sat Nam Fest?
Anne Novak: I'm excited to say that I'll be sharing an incredibly powerful Conscious Rebirthing Kriya at Sat Nam Fest this year. It's one of my personal favorites (to teach as well as to practice) because its positive effects are both immediate and enduring! And I'm thrilled that Sirgun Kaur will be supporting us all on this journey with her gloriously healing angelic voice and music!